Intermodal shipping containers offer a wealth of possibilities for military and civilian customers alike. At Conlog, we leverage these possibilities to deliver unique solutions for our customers.
In existence since the late 1950s, intermodal containers have become the backbone of global logistics. Their straightforward box design allows easy loading onto trucks, rail wagons, and ships.
Standardised lengths of either 6.1m (20ft) or 12.2m (40ft) and heights between 2.44m (8ft) and 2.89m (9ft 6in) contribute to this ease of movement, though there are some exceptions, including containers as long as 13,7m (45ft).
Thinking Inside the Box
The ease with which a container is moved not only impacts the world of commerce; militaries and other civilian sectors like healthcare, the oil industry, and research communities have embraced them. Since our establishment in 1990, Conlog has been capitalising on the potential of containers, delivering tailored solutions to our diverse clientele.
The benefits of containerised products are significant. At the heart of it all, these containers are incredibly easy to move. They can be swiftly loaded onto flatbed trucks or trailers, transported across oceans on various ships, or carried across vast distances by rail wagons.
Whether carrying car tyres or housing one of Conlog's specialised capabilities, an intermodal container can effortlessly be moved using the global infrastructure. Some military cargo aircraft can even accommodate individual containers.
This versatility means that Conlog's solutions, like our KOPA military command post encased in a standard 6.1m box, can reach any part of the globe within hours.
What is inside the box is equally important. A standard intermodal container encloses significant volume. A 6m container has 13.7 square metres (146 square feet) of floor space and 33.1 cubic metres (1,170 cubic feet) of volume. This volume is doubled for its 12.2m counterpart. Nonetheless, Conlog engineers can increase these volumes still further by squeezing 34 square metres (376.7 square feet) of floor space from a standard 6.0 m container.
How is this done? The company uses foldable walls, floors and ceilings, which remain flush to the sides of the container when travelling but are folded out to increase space when the container is in use.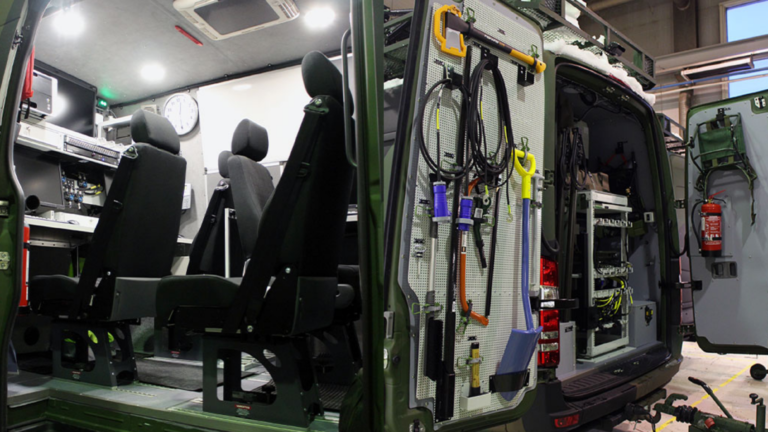 The Beauty of Modularity
At Conlog, we pride ourselves on our flexibility. Our customers tell us what they need, and we deliver.
Emphasising modularity, we can easily integrate varying requirements. Many military customers prefer systems that can be updated or changed throughout their lifespan. Using our CL-600 communications station as an example, this containerised system houses radios, computer systems, masts, and other equipment needed for military communications.
The container includes a climate-controlled workspace for up to five operators with ballistic protection and safeguards against chemical, biological, radiological, and nuclear threats. It even protects against electromagnetic pulses from a nuclear explosion. A diesel generator supplies power, and customers can specify camouflage to avoid detection by thermal imagers, radar, and optronics.
Our philosophy emphasises using the same components and design approaches across our products whenever feasible. This strategy not only reduces costs for our customers but also shortens production and delivery times.
Over three decades of delivering containerised solutions have honed our expertise in modular design.
While each customer's requirements are unique, we aim to maximise commonality where we can. This may seem contradictory for bespoke products, but it works – as evidenced by the trust placed in us by our military and civilian customers who rely on our products every day.