Conlog has been shaping the future of logistics and defence technology using modular designs and innovation, and our varied portfolio benefits sectors from healthcare to the military.
The humble intermodal shipping container revolutionised the civilian and defence worlds by providing an easily movable platform that can host various capabilities.
Conlog, a portmanteau of Container Logistics, began in 1990 in Ylikiiminki, northern Finland. Today, the company develops bespoke solutions for civilian and military customers using modular containers, vehicles and trailers.
Since 2018, we've been proud members of the Swedish SES Group, alongside heavy hitters like Rirek, New Pac Safely, and SES Integration.
Our sibling companies are experts in everything from heavy vehicle maintenance and upgrades to protection against chemical, biological, radiological, and nuclear threats, and the creation of fortified shelters.
Together, we cater to a diverse range of civilian and military needs.
Conlog's products are designed to be used across the whole gamut of demanding environments, from the cold of the Arctic to the heat of the desert.
Leveraging state-of-the-art steel structure technology, energy-efficient refrigeration and climate control systems, and secure information and electrical systems, we collaborate with clients to craft the exact systems they need when they need them.
Civilian Sector
From mobile command centres to library buses and water tankers, our products are transforming the civilian sector.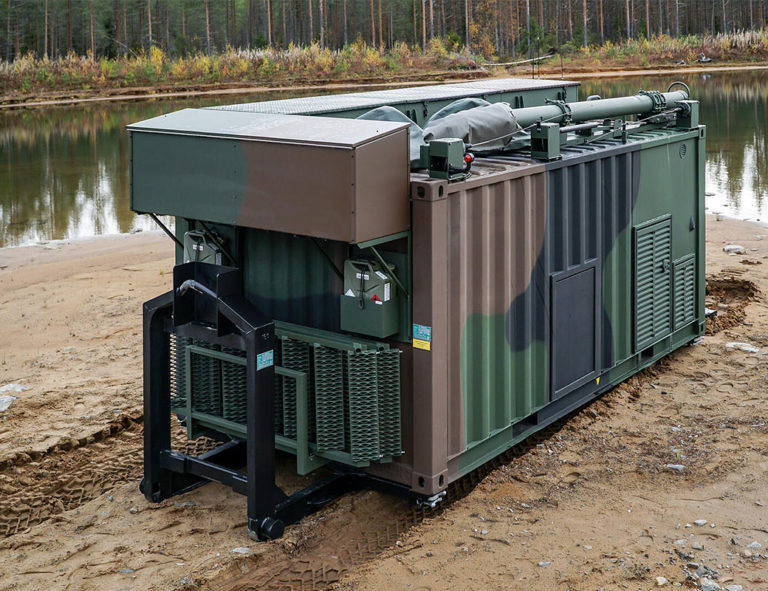 From mobile command centres to library buses and water tankers, our products are transforming the civilian sector. 
We have provided containerised solutions to the oil industry such as maintenance facilities. Containerised generators are another of the company's specialities along with laboratory containers for the research community. 
Military Capabilities
Conlog's military product line is as robust as it is innovative. Much of our focus is on providing command and control capabilities, housed within versatile shipping containers.
Our offerings range from containerized communication systems and base stations to command posts, complete with extendable masts to increase communication range. We also provide specialist containers for transporting hazardous materials and ammunition.
We're not just about containers. Our designs can be integrated into standard four-wheel-drive vehicles, providing a mobile command, control, and communications hub. And our work on the BMP-2 armored infantry fighting vehicle—improving its optronics, communications, and camouflage—was a significant achievement that helped our company grow.
Despite our growth, we've held on to our agility, the kind you find in a nimble startup. That agility, along with the BMP-2 upgrade, earned us the trust of the Finnish Defence Force, one of our most valued partners.
Supporting all our products is our comprehensive lifecycle and maintenance services. We offer everything from documentation and training to repairs, spare parts, and end-of-life services.
Most of our military clients are based in Finland, but we're steadily expanding globally—20% of our clients are now from the international market.
People are our Strength
Our talented team of around 100 people is the lifeblood of Conlog, bolstered by a wide network of subcontractors. Our in-house R&D department is a melting pot of different skill sets that come together to create groundbreaking products. We believe in nurturing young talent, offering internships that often turn into full-time opportunities.
Our employees are immersed in every aspect of our work, which they consider one of our greatest strengths. Many of them have served in the Finnish military or worked closely with it, giving us a unique understanding of our military clients' needs.
As we forge ahead, we remain guided by the principles that propelled us on this journey back in 1990: innovative, adaptable solutions backed by steadfast service and support.
Conlog's story is a tale of revolution and resilience, proof of how a simple concept—the humble intermodal shipping container—can change the world.