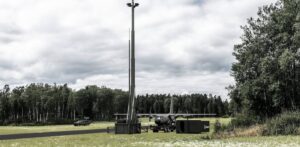 by David Donald – June 20, 2023, 1:06 AM
Saab has partnered with Finnish company Conlog Oy to offer a deployable version of its remote tower air traffic management system.
The partners developed the r-TWR Deployable system for expeditionary and remote operations as well as disaster relief applications.
Saab is one of the pioneers of remote tower technology, placing a number of remote towers at civilian locations. The NATO air base at Geilenkirchen in Germany also has a Saab remote tower. Now it has packaged the technology into a twin-container configuration that can be transported by land vehicle or in a C-130-sized airlifter.
Conlog has developed the purpose-built containers that accommodate the system.